Your questions answered
Whether you're a first time visitor or have been here before, our FAQs are here to help you make the most of your visit to Liverpool Philharmonic.
How long are the performances?
It varies, but most orchestra concerts are about two hours long, with an interval at the halfway point. Very often there will be several pieces in the concert, but sometimes there is one single work played straight through. It's a good idea to take a look at the programme before the concert to get an idea of what to expect. Family concerts are approximately one hour long without an interval. Non-orchestral events may vary in length - please call the Box Office beforehand for information.
What should I wear?
You should wear whatever you are comfortable wearing. People wear everything from business attire to casual clothing to our performances.
Should I arrive early?
Absolutely! Plan to arrive 20 minutes before concert time, so you can find your seat, turn off your mobile phone, take a look at your surroundings, absorb the atmosphere, and have time to glance through the programme book, too. You won't be alone. Most concert-goers make a point of coming early to read the programme notes or have a drink in the Grand Foyer bar.
What should I do if I'm late for a performance?
Don't worry if you are late for a concert at Liverpool Philharmonic. For Orchestral concerts a steward will wait with you until an appropriate break in the programme between the pieces of music and show you to either your seats or the nearest available seats if time is limited. You can then move to your booked seats at the interval. For most non-orchestral concerts we operate an open door policy for the support act and when the main act is on a steward will show you to your seat in a gap between numbers.
What if I've purchased tickets and find I can't attend a performance?
We have a ticket exchange available for Royal Liverpool Philharmonic Orchestra concerts. This service is free for Subscribers and Members, otherwise a service charge is applicable of £2 per ticket. All exchanges must be made 24 hours in advance by post or in person at the Box Office. Exchanges for other Liverpool Philharmonic Events is not available.
Ticket Resale (for sold out concerts only)
For sold out concerts we can try to re-sell your concert ticket for a small fee. Contact the Box Office on 0151 709 3789 for details.
Ticket Transfer
If you can't attend a performance and would like to transfer your tickets to a friend, we can help. To transfer your tickets, call the Box Office on 0151 709 3789. Transfers must be made at least 4 hours prior to the performance.
What if I lose my tickets?
Contact the Box Office on 0151 709 3789 as soon as you lose your tickets and they will assist you. A service charge of £1.50 per ticket is applicable unless you are a Royal Liverpool Philharmonic Orchestra subscriber.
Do you offer reduced price tickets for students, Senior Citizens, and under 25s?
For some Royal Liverpool Philharmonic Orchestra performances Under 25s, students and claimants (job seekers allowance and income benefit allowance) can purchase tickets for just £7. Discounted tickets can be purchased from the Box Office in person or by phone on 0151 709 3789.
On the day of the concert, Senior Citizens (aged 65 or over at the time of booking) may purchase half-priced tickets for most Royal Liverpool Philharmonic Orchestra concerts in person only (no telephone orders) at Liverpool Philharmonic Hall Box Office. Standby tickets are limited to 2 per person. Standby tickets are subject to availability and if there are only small number of tickets remaining for a concert, standby tickets will not be available.
Subject to availability and you may be required to show proof of eligibility. Concession tickets do not apply to Family Concerts, New Year's Eve and Messiah and may be limited for other concerts.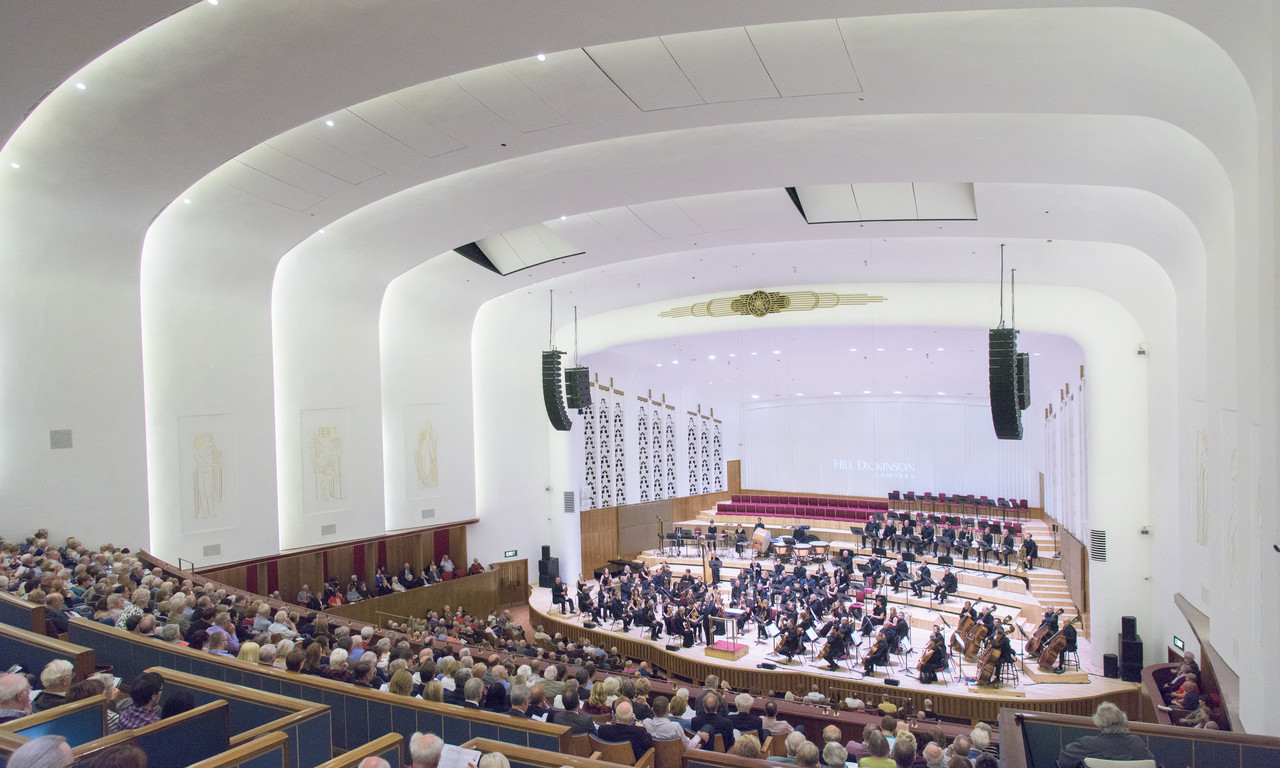 What are Liverpool Philharmonic Hall's age restrictions?
For all performances, we advise that under 16s are accompanied by an adult (18+). Where an event has a specific age restriction (e.g. over 18s only) then this regulation takes precedence. Please note that Liverpool Philharmonic cannot be held responsible for your children if unaccompanied by an adult.

Parents are advised to check age guidelines in advance as not all performances are suitable for children. Age guidance will be published online and in the season brochure wherever possible.
Where can I purchase Royal Liverpool Philharmonic Orchestra CDs?
You can buy Royal Liverpool Philharmonic Orchestra recordings from the shop which is situated in the Grand Foyer on orchestra concert evenings. CDs are also available to purchase from our online shop.
Where can I purchase concert programmes?
Concert programmes are on sale in the Foyer of Liverpool Philharmonic Hall.
When do I clap?
Sometimes at a Royal Liverpool Philharmonic Orchestra concert it can be difficult to know when you're 'supposed' to clap, but mostly you clap only once when the piece is completely finished rather than in between movements when there's normally a pause of a few seconds. If in doubt, wait for everyone else to start clapping and join in!
I've never been to an orchestra concert before. What should I expect?
Expect to enjoy yourself! This is the time to let go of any preconceptions you may have about classical music or the concert experience. If you feel a little nervous, that's OK. Some things about the concert may seem strange because they're new to you, but if you just focus on the music, you'll have a great time.
Open yourself up to the music. Let it trigger your emotions - maybe even your memories. Feel the rhythms, follow the tunes. Watch the musicians and the conductor, and see how they interact with each other. Notice how the music ebbs and flows - surging and powerful at some times, delicate and mellow at others, and everything in between.
Will I recognise any of the music?
You might. Classical music is all around us: in adverts, film soundtracks, television themes, cartoons and shops. Popular music often quotes classical melodies, too. While you're listening in the concert to a piece you think you've never heard before, a tune you've heard a hundred times may jump out at you.
Whether or not you've heard the music before the concert, as you listen, you'll notice that each classical piece uses its own group of several tunes over and over, in different ways. You'll start to "recognise" these melodies as a work progresses. Listen for the ways a melody is repeated: is it exactly the same as the first time, or with a different character? Is it played by the same instruments, or different ones? Does it start the same as before, but go off in a different direction? Or start differently and surprise you by developing into the tune you recognise from earlier in the piece?
I saw an event advertised on an artist's website, but why can't I see it in your listings?
We try our best to add upcoming events to our website as soon as we can, however, sometimes circumstances beyond our control can prevent this. In all cases we will not add an event to our listings until the artist is confirmed and all appropriate legal documentation has been completed. Unfortunately, we are unable to prevent promoters and artists advertising their events before the required formalities are completed, and we ask that you bear with us in these cases.
We hope you enjoy your visit to Liverpool Philharmonic. Please email any feedback or comments to marketing@liverpoolphil.com