It's not Christmas without a retelling of A Christmas Carol – you might be a fan of 1950s masterpiece Scrooge or maybe even Kermit's take on the classic, but get ready for the Liverpool Philharmonic version. With our annual festive extravaganza Spirit of Christmas fast approaching, we're turning to our old pal Dickens for inspiration (fun fact: the man himself performed here at the Hall in 1852!), and journeying through the glittering delights of Spirits of Christmas past, present and yet to come, with Artistic Planning Director Sandra Parr as our guide.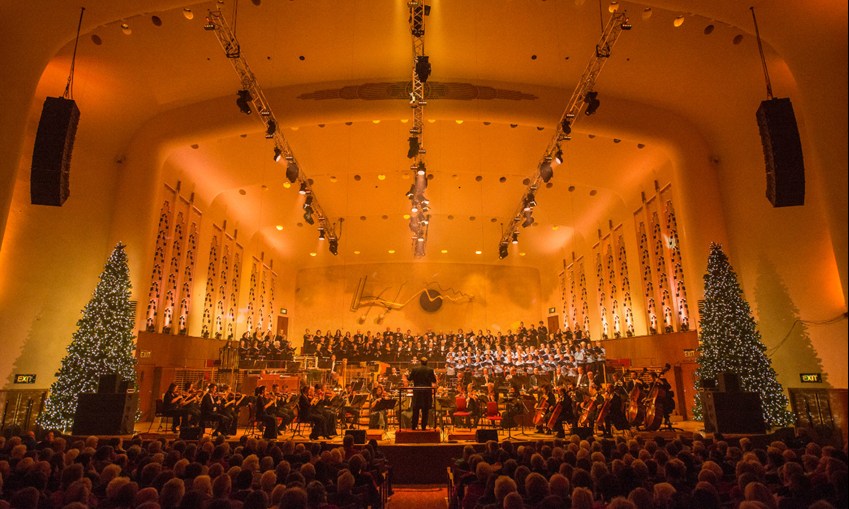 Chapter 1 – Spirits of Christmas Past
From day one, Spirit of Christmas wasn't your ordinary carol concert. Bringing as much of the Liverpool Philharmonic family – the Orchestra, Choirs and audiences – together as possible, it was a sparkling celebration of the music and magic of Christmas. Guest stars would dazzle the Hall – not least broadcaster John Suchet, who led us through the first Spirit of Christmas in 2011 and continued to host for ten years. "John became Mr Christmas if you like," says Sandra, "he was so much part of our Spirit of Christmas", so when he hung up his famous red tie last year, we had to give him a wonderful send-off. As a nod to John's journalistic past, the Orchestra performed Leroy Anderson's The Typewriter. "It was a great gag – everyone loved it. John really enjoyed doing it and Graham Johns [percussion] really, really enjoyed doing it!" But there was one more festive treat for John… "I knew he'd always wanted to conduct the Orchestra, and I thought this is a moment if ever there was one. When he eyed up Ian Tracey's baton resting on the podium, I dared him to lift it up and the Orchestra played Radetzky!"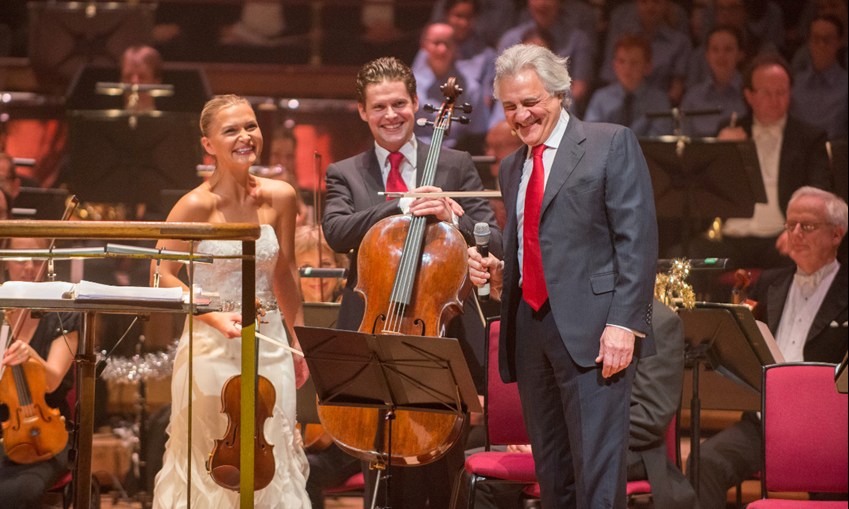 Of course, the star atop our Spirit of Christmas tree has always been our guest artists. Over the years we've hosted internationally renowned stars such as Jennifer Johnston, and the Samuelsens, and introduced up-and-coming talents such as accordionist Ksenija Sidorova. "We've had someone playing the uilleann pipes – Kathryn Tickell. I've tried to alternate between singers and instrumentalists and it's really interesting to see how different instruments can bring different things." Of course, working on such a huge event can bring complications, but it wouldn't be Christmas without a little chaos – even if that means waiting anxiously for a call to say your star tenor (friend of Liverpool Philharmonic, Jesús León) will be back from an emergency hospital visit in time for the concert… "We haven't had too many hiccups though," laughs Sandra, "and I hope I haven't just jinxed that now!"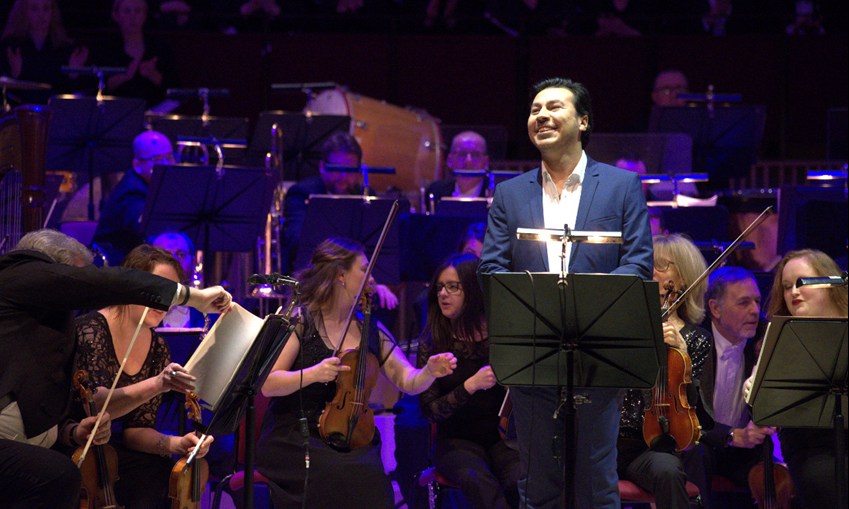 What's most remembered of Spirits of Christmas past, however, is often the more contemplative moments – the ones that stay with you long after. "A big goosebump moment for me was in 2014 where we marked 100 years since the start of World War One," recalls Sandra. "John did the most amazing reading while the choir sang I'll Be Home for Christmas, and on the back wall was a very foggy picture of the poppy fields and a ghostly image of a soldier... there weren't many dry eyes in the house." Another much-remembered moment came when the Choir sang O Radiant Dawn by James MacMillan in near-total darkness. "We asked the Choir to sing from memory, which I don't think they were terribly happy about at first, but the impact was amazing. The way the piece builds, the lighting we had going with it – it was another moment where both musically and theatrically the whole thing really worked together."
Chapter 2 – Spirit of Christmas Present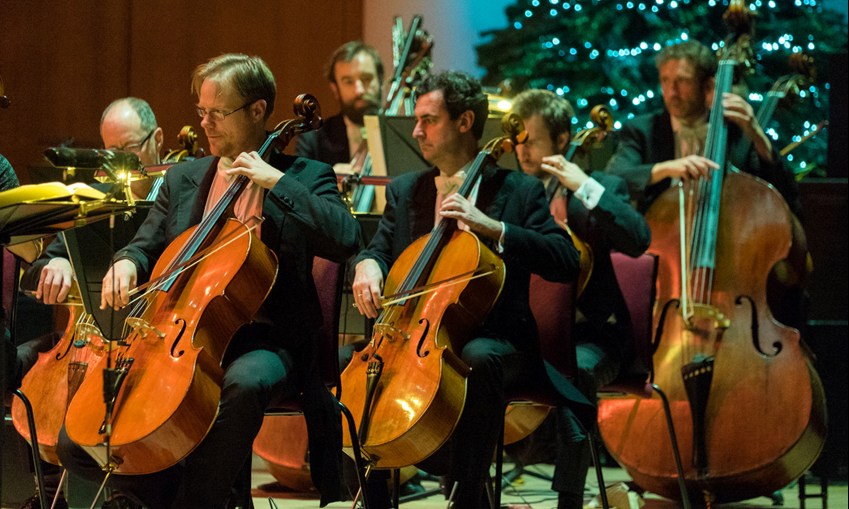 Now it's the moment we've all been waiting for – let's take a sneak peek at our Christmas present! Stepping into John Suchet's shoes is the one-and-only Kadiatu (Kadie) Kanneh-Mason – "she adores Christmas and it just struck me that she'd be a fantastic person to link the programme". She's visited the Hall before with her superstar children Isata and Sheku, but now it's her turn to enchant our audiences… So, in the last few weeks, our Spirit of Christmas elves Sandra and Kadie have been hard at work crafting a real extravaganza of a show that we know will go down an absolute treat.
As is tradition, the Royal Liverpool Philharmonic Choir and Liverpool Philharmonic Youth Choir will take to the stage – and both are preparing a real Christmas cracker of a performance. The adult Choir are bringing their favourites, alongside some new works, and the Youth Choir are ready to show off what they can do – "they're on a par with the best youth choirs around the country", so expect some seasonal magic. The Hall will be transformed into a glittering Christmas grotto, thanks to our Design team and backstage crew who have been busy dreaming up stunning imagery and lighting effects. There are new arrangements of classics from Timothy Jackson, Ian Stephens and Hywel Davies and powerful, rousing parts to the programme, "that big rumble of the organ leading up to 'O Come All Ye Faithful' ", but there'll be quieter points too – prepare for a moving "tearjerker musical moment reflecting on a part of the world where there's a lot of sadness at the minute". And then there's the sparkling bow finishing off this Spirit of Christmas present – a "ball of fire and personality, just a born entertainer", our Artist in Residence trumpeter Pacho Flores, who returns to Liverpool for some festive, fiesta fun. "So there's a lot going on – I don't think you're ever bored at a Spirit of Christmas concert!"
Chapter 3 – Spirit of Christmas Yet to Come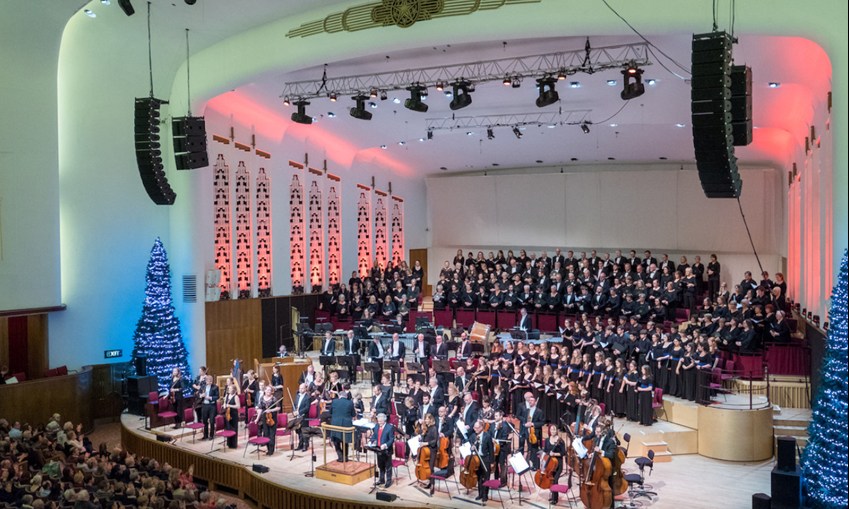 Christmas comes just once a year? Not at Liverpool Philharmonic! "While everyone's munching their way through Easter eggs, I'm quite often flipping through Carols for Choirs thinking what should we do this year", says Sandra. "In the middle of June, Ian Tracey and I start hatching our plans and ideas, but we tweak and tweak – there are several drafts throughout the year." Seasonal business is serious business and in fact, Sandra sees getting the Spirit of Christmas programme right as "one of the most difficult parts of [her] job". The concert has become such an institution that there are plenty of boxes to tick – "people want to be entertained, to laugh, to have a moment to reflect", they want favourite carols but some new music too. So even now, Sandra's arranging guest artists for next year, making lists "in the back of [her] diary", finding "scribbled notes in the car", jotting down ideas as she sits in rehearsals. But of course, she's keeping the magic alive and won't share those just yet.
How about if she could bring one old Spirit of Christmas back to the stage? "I've loved every single concert, but if I could see one again, it would be the very first one, with trumpeter Tine Thing Helseth, I'd just love to have her back." And maybe one day she'll be here again… Spirit of Christmas has become an important tradition for so many – artists return, audiences come back and sit in the same seats "their parents and grandparents did". The whole occasion just touches their hearts, "and that's exactly what we want from Spirit of Christmas."