You'd normally find him at the back of the stage, but it's time to put Graham Johns, Percussion Section Leader of the Royal Liverpool Philharmonic Orchestra, well and truly front and centre.
After an incredible 40 years with the Orchestra, the time has come for Graham to hang up his hi-hat and retire. Over the past four decades with us, he's touched the lives of so many – through his music, his love for his craft and his friendship. So of course, when word of his retirement got out, it prompted an absolute flood of messages from conductors, musicians and supporters all over the world. Looking for the perfect retirement gift, his colleagues in the percussion section turned to Graham's passion project – the Forever Bells – for inspiration. The occasion, plus the support of all those well-wishers, led to the commissioning of a new church bell to add to the Orchestra's collection. This brand-new bell, engraved with Graham's name, was presented to the man himself on the eve of his final concert in a truly touching celebration.
Now after all those years, Graham's certainly got a few stories to tell, so here are his thoughts and reflections on a truly impressive career…
 "It's often said that if you love your job, you'll never work a day in your life… Looking back over my 40 years in the Royal Liverpool Philharmonic Orchestra I feel that this well-known phrase applies firmly to me.
 There have, of course, been downs as well as ups – tiring rehearsals of challenging repertoire and the antisocial hours required of a concert-giving profession. I feel blessed, though, to have had an amazing career in a top-class symphony orchestra, with a back-catalogue of recordings that are testament to its world class status and its ability to stand comparison with the best.
 As a teenager in the 1970s in New Zealand, I began to realise there was an exciting world of classical music to discover, and I acquired an LP of the Royal Liverpool Philharmonic Orchestra playing the music of William Walton, conducted by Sir Charles Groves. It was, and still is, one of my favourites. Little did I know at the time that I would be joining the Orchestra just over a decade later.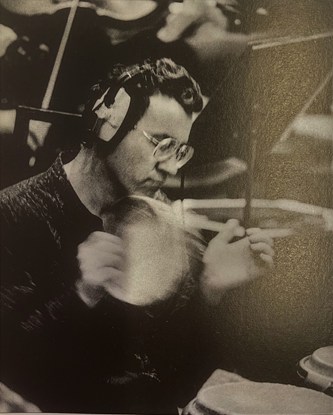 Graham Johns
Sir Charles was a regular guest conductor of the New Zealand Symphony Orchestra, so I was familiar with the large and affable character that welcomed me to Liverpool and the Philharmonic back in 1983. His first comment to me, with a knowing glint in his eye and a smile, was "you know a man by his shoes – I'd give them a polish if I were you". I made sure they were always gleaming after that. I soon fell in love with the Orchestra and the city, and I'm proud to be considered an 'Adopted Scouser'.
 My early years in the Orchestra were a baptism of fire, particularly where English repertoire was concerned. Here I must pay tribute to my dear predecessor, John Ward. From him I learned so much, not just about specific repertoire but also his love of music, his humanity – and the art of entertaining. John knew how to engage an audience, staging (almost) one-man shows in schools and hospitals. He was loved by all and I'm glad to have counted him as a great friend and colleague. I miss him dearly…
 The Orchestra has been fortunate to have had many tremendous conductors over the years. I'm lucky to have enjoyed some very special collaborations, particularly with Libor Pešek and Vasily Petrenko, two golden periods in the recent history of Liverpool Philharmonic.
 Libor was a favourite of the Orchestra and audiences alike. His genial and loveable character – and his decade of incredible music-making – endeared him to us all. We had so much fun with him, highlights including tours to his beloved Prague, the USA and around Europe, ending in Vienna's Musikverein – all memories that I will treasure.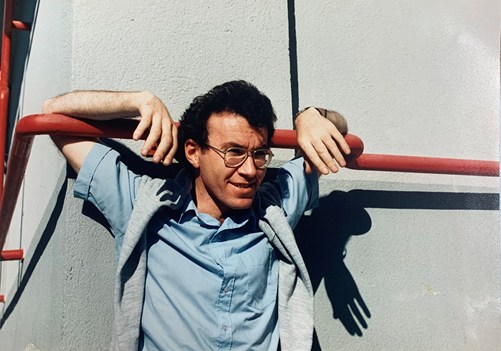 On an Orchestra tour in Spain in the 1980s 
Libor was also a gifted linguist (speaking numerous languages) and was a master of the understatement. Rehearsals were often sprinkled with quips and one-liners that would have the Orchestra corpsing with laughter, rendering futile our attempts to play with any control thereafter. "Colleagues," he said to the brass in King George's Hall Blackburn, "You are the only group that has the proper sound, balance and colour in this hall. Don't worry, it's not your fault..." And I'll never forget his most generous donation to pay half the £5000 cost of the Zarathustra Bell in 1994, after having purchased it myself in a moment of pure madness.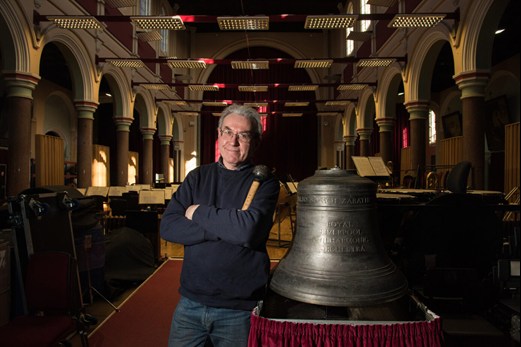 Graham with the Zarathustra Bell, which was commissioned for Vienna's Musikverein
The Royal Liverpool Philharmonic Orchestra can be proud to have 'discovered' Vasily Petrenko at a time when he was little known in the orchestral world. And what a discovery that turned out to be… His fifteen years with us put the Orchestra on a trajectory of excellence that has produced benchmark recordings and reviews that are up with the best in the world. Our recording of Shostakovich's Tenth Symphony is the Apple Music editor's choice among a glittering selection. The second movement is a snare drummer's dream and I'll never forget our concert with Vasily at the London Proms.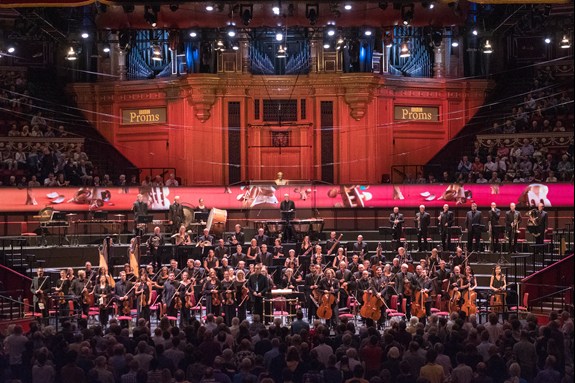 The Orchestra at the Proms
The Orchestra has now embarked on a very exciting and different musical adventure with Domingo Hindoyan. Recent programmes have featured some fabulous works, including several from South America, which from a percussionist's point of view are both challenging and exhilarating. Domingo's creative and firm direction is inspiring the Orchestra to new heights of musical expression.
Other past Principal Conductors, including Marek Janowski, Peter Altrichter and Gerard Schwarz, directed many fabulous concerts. I will also remember some great concerts with several superb guest conductors, including Vernon Handley (especially in our Vaughan Williams series), Sir Charles MacKerras, Stanley Black, and later Carl Davis in our Classical Spectaculars at Leeds Castle and Liverpool's King's Dock. What special days they were...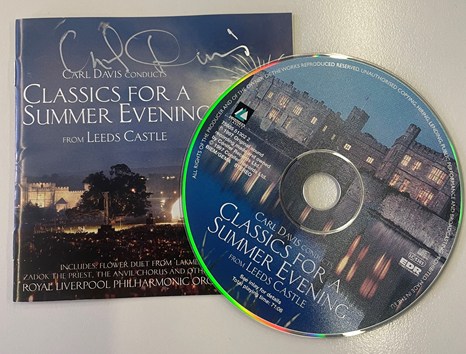 A recording of the concert at Leeds Castle
In recent years we have had a very fruitful relationship with Andrew Manze, with whom I have particularly enjoyed revisiting the English repertoire. Again, our recordings with him – some of which feature our wonderful Choir, trained so beautifully by Professor Ian Tracey – rank among the finest. It is very satisfying to hear from many colleagues, both here in the UK and around the world, who say they listen to Royal Liverpool Philharmonic Orchestra recordings when learning repertoire because 'they're the best'.
Speaking candidly, orchestral percussion playing is a rather strange profession. There's a huge variety of different instruments to master, all with their own specific techniques and skills. Some of them you may not actually play for many years, then all of a sudden, you're on the spot and have to learn how to play them all over again. I've always maintained that the main role of the percussion section in the orchestra is to add colour and character to the music. To me, we are the salt and pepper, the 'herbs and spices' if you like. The real 'meat and potatoes' are the rest of the band, particularly the strings. We have to know how much or how little to contribute. The wrong balance of ingredients and that steak is ruined (many apologies to the vegetarians)!

Graham and Neil Hitt
The Forever Bells project is probably my proudest achievement. It would and could not have happened without the support of management and colleagues, and it has now become a huge national resource of church bells for the whole of the UK orchestral community. At any one time, one or more bells are on hire, bringing much-needed income to Liverpool Philharmonic. I will always be particularly thankful to our amazing donors, all of whom have made possible our unique collection of eighteen bells – there is no other such collection in the UK or Europe. We, and other orchestras, can now play repertoire exactly as composers envisioned, many of whom never actually got to hear their works performed with the 'real thing'. And when we don't need them, our sister orchestras and audiences can experience the same delight as us.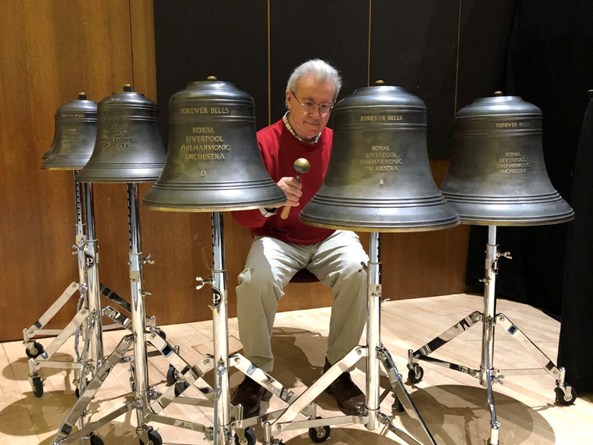 Graham and a few of the Forever Bells
I would like to pay tribute to all my colleagues, past and present, who have had to endure many a mad idea. Ian Wright, Henry Baldwin, Dawn Mace and Jean Webster, and currently Neil, Jo and Scott, the most genuinely sterling bunch of people, with whom playing has been a real joy. Not only are they the best musicians you could ever wish to work alongside, but they are real friends too. I will miss our teamwork but treasure the many memories.
I send the Royal Liverpool Philharmonic Orchestra all my love and good wishes for the future, and look forward to seeing and hearing the Orchestra continue to excel and flourish under the direction of Maestro Domingo Hindoyan."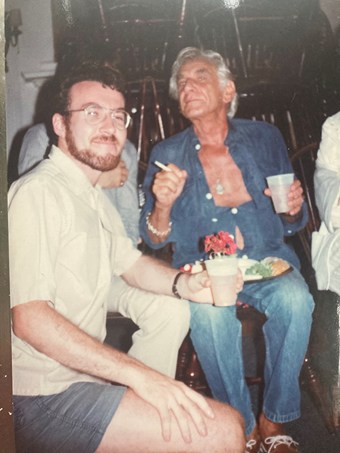 Graham with Leonard Bernstein in 1983
Here's just a handful of the messages left by Graham's colleagues and friends…
"I remember when we first met in Luxembourg and all the passion you expressed to me about the bells in Pictures at an Exhibition. I have always enjoyed the concerts we have done together and all the music you give to the Orchestra, how every note means something to you and how you treat every instrument as a pearl. I have been fortunate to share with you two years as Chief Conductor of Liverpool Philharmonic. You will be missed, your legacy speaks for itself. I celebrate your career and am sad about not seeing you so often anymore, but your inspiration will be always with us."
– Domingo Hindoyan, Chief Conductor, Royal Liverpool Philharmonic Orchestra
"Congratulations on all these extraordinary decades of work! And it was a big pleasure, and seriously scary, to join you in the section all those years ago... Much love."
– Sir Simon Rattle, Music Director, London Symphony Orchestra
"What a privilege it has been to play alongside you for twenty years. Thank you for your great friendship and inspiring musicianship."
– Jo Frieze, Associate Principal Percussion, Royal Liverpool Philharmonic Orchestra
"Graham, I'm full of admiration for you as a player and a genuinely warm-hearted human being. I'm extremely proud to have worked alongside you. We've been very lucky to have you!"
– Scott Lumsdaine, Principal (No.3) Percussion, Royal Liverpool Philharmonic Orchestra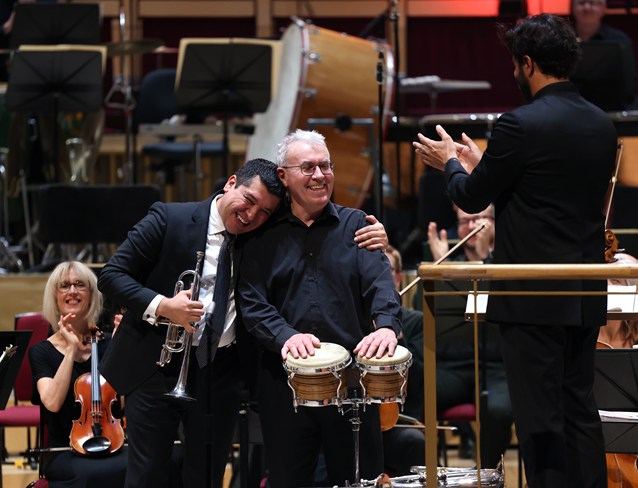 Graham with Pacho Flores and Domingo Hindoyan at his final concert, Fiesta!